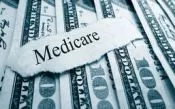 What plan is right for you?
With the Coronavirus-Covid-19 virus outbreak many seniors are concerned about the cost for comprhensive treatment.
Information about coverages for the Corona virus (click here)

A few questions that will help guide you in making the proper choice:
1. What is your health condition? Do you have a pre-existing condition (diabetes, cancer, heart, emphysema)?
2. When was the last time you were hospitalized?
3. How many times per year do you visit a doctor? Primary care or Specialist?
4. Are you under any medications?
5. Can your budget afford an extra expense? $30-250+/mo.?
6. You have pre-existing health issues or concerns about your health and future expenses.
Are you aware that in many cases the cost of a Medicare Supplement is less than paying out of pocket copays and deductibles?

Medicare Part A premium = Most people don't pay a monthly premium.

Medicare Part A Hospital Deductibles: (click here)
$1,408 deductible for each annual benefit period (2020)

Days 1-60: $0 coinsurance for each annual benefit period (2020)
Days 61-90: $315 coinsurance per day of each benefit period (2020)
Days 91 and beyond: $630 coinsurance (2020) per each "lifetime
reserve day" after day 90 for each benefit period (up to 60 days over your
lifetime) Beyond lifetime reserve days: all costs (2020)
Deductible or out of pocket expenses can add up to thousands of dollars
Part B Premium = Most people pay $144.60 each month (2020).
Medicare Part B Deductible & Coinsurance: (click here)
You Pay:
Deductible $198 per year (2020). After your deductible is met, you typically pay 20% of the Medicare-approved amount for
most doctor services (including most doctor services while you're a hospital inpatient), outpatient therapy, and durable
medical equipment.
Deductible and 20% of Medicare-approved coverage's (no excess charges for specialists) can add up to thousands of dollars
Medicare Part C (Medicare Advantage): (click here)
Part C monthly premium: cost varies by plan.
Deductibles, coinsurance and co-payments varies by plan. Contact Medicare.gov or Contact Us.
Medicare Part D (Medicare prescriptions, drug coverage's) (click here)
Part D monthly premium varies by plan (higher income earners may pay more).
For more information on Medicare Supplement - Medigap Insurance coverage (click here)
As a Type 1 Diabetic for over 50 years I know the value of insurance and will be happy to share my knowledge to help you
get the coverage you need and can afford. In many cases a good Medicare Supplement is far less expensive than paying
out of pocket the standard Medicare deductibles.
Due to Governmental regulations and the many different Medigap and Advantage opportunities we are unable to advise
until we are aware of your needs and get your permission to advise.
Contact Us


Medicare

Pre-Existing Conditions
Medicare Supplements
About
What Plan Do I Need
Copyright © {2015} Cary M. Nagdeman All Rights Reserved.Designed by CMN
Goto Top